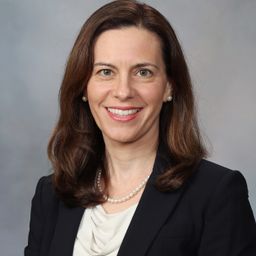 Sophie J. Bakri, MD is Chair and Professor of Ophthalmology at Mayo Clinic, Rochester, MN. She holds the Whitney and Betty MacMillan Professorship in Ophthalmology in Honor of Robert R. Waller, M.D.
Dr. Bakri is a specialist in diseases and surgery of the retina and vitreous, in particular, age-related macular degeneration, diabetic retinopathy, and repair of complex retinal detachments. She undertakes both clinical and translational research in the pathogenesis and treatment of retinal diseases. She has served as Director of the Medical and Surgical Retina Fellowships at Mayo Clinic.
Dr. Bakri completed a vitreoretinal surgery fellowship at the Cleveland Clinic Foundation and her residency at Albany Medical College, New York. She graduated from the University of Nottingham Medical School, England. She holds an MBA from the Wharton School, University of Pennsylvania. She has authored over 230 peer-reviewed papers and 26 book chapters on retinal diseases. She is a principal investigator on numerous multicenter clinical trials on novel drugs for retinal disease. She is the Editor-in-Chief of the book "Mayo Clinic on Vision and Eye Health", and is on the Editorial Board of the American Journal of Ophthalmology, Retina, Seminars in Ophthalmology and OSLI Retina. She is an active participant in several ophthalmic societies. She has served the Macula Society as Meeting Planning Chair and as an Executive Committee member, the American Society of Retinal Specialists as a Board member and member of the Program Committee. She is a member of the Retina Society, serving on the Nominating Committee. She has served the American Academy of Ophthalmology on several committees.
She has received numerous awards, including the Ophthalmologist Top 40 under 40 award, a Senior Achievement Award from the American Academy of Ophthalmology, a Senior Honor Award from the American Society of Retina Specialists and inducted into the Retina Hall of Fame. She has also been honored with receiving the Young Investigator Award from the American Society of Retina Specialists.
Financial disclosure: Dr. Bakri has/had an affiliation (financial or otherwise) with a commercial organization:
Adverum
Allergan
Alimera
Eyepoint
Genentech
Kala
Novartis
Oxurion
Roche
Zeiss
Lowy Medical Foundation
NIH

Sessions in which Sophie Bakri participates